Diagnosing Endometriosis
Because the symptoms of endometriosis are not very specific, the diagnosis of endometriosis cannot be made by the symptoms alone. However, symptoms can give a doctor a first hint towards the diagnosis of endometriosis.
Several studies have reported large diagnostic delays in endometriosis. In Ireland the average delay is 9 years. It is assumed that factors such as normalisation of symptoms by those suffering, their families and health care team, the use of the contraceptive pill (suppressing symptoms), the use of non discriminatory examinations and misdiagnosis with other conditions all lead to these long delays.
Endometriosis can only be diagnosed by a laparoscopy (key hole surgery under anaesthetic) and by cutting out the lesions and sending them to the laboratory for confirmation. As this is considered an invasive procedure, some doctors may choose delay this procedure.
ESHRE Guideline on Endometriosis 2013 makes the following recommendations:
In women attending their GP – endometriosis should be considered when the following symptoms are noted.
Should my doctor perform a clinical examination?
In addition to your symptoms, clinical examination can provide additional information to the doctor. However, there is little scientific evidence for the value of certain clinical signs to come to the diagnosis endometriosis.
Clinical Examination
During clinical vaginal examination the doctor looks for tenderness, nodules or swelling of the vaginal wall especially in the deepest point of the vagina between the back of the uterus and the rectum by inspection using the speculum and by palpation using his/her fingers. In women with deep endometriosis or endometriosis of the ovaries, clinical examination may give considerable information regarding the proper diagnosis, while in peritoneal disease the clinical examination most of the time is completely normal.
What is laparoscopy?
Laparoscopy is a surgical technique. A laparoscopy is normally carried out as a day case procedure, you will be admitted and placed under general anaesthetic. 3 (or more) small cuts are made on the abdomen. There is usually one in the belly button (umbilicus) and two below the bikini line, one left side and one right side. These incisions allow the surgeon to pass instruments into the pelvic cavity to see the organs and any endometriosis present. They can also use tools via these incisions to excise (cut out) the endometriosis lesions.
Historically, laparoscopy with histological confirmation is seen as the gold standard for the diagnosis of endometriosis. However, there are no studies showing that a positive laparoscopy (when a doctor can see lesions during laparoscopy) truly proves the presence of endometriosis. The guideline development group encourages doctors to obtain small pieces of tissue for histologic examination whenever laparoscopy is performed. If an experienced doctor performs a laparoscopy and he or she cannot identify endometriosis, it is likely that the woman does not have endometriosis.
A hysteroscopy (small camera to look inside the uterus) can be carried out at the same time. Some surgeons choose to flush the fallopian tubes (Hysterosalpingogram HSG) to check for blockages and to improve fertility.
Multiple surgical treatments for endometriosis carry a risk of reducing ovarian reserve (fertility) and causing chronic pain.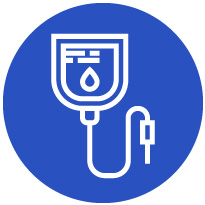 Should I undergo laparoscopy for a definite diagnosis?
A definite diagnosis of endometriosis is considered when the doctor has seen endometriosis during laparoscopy and this is confirmed by taking biopsies for histology.
For a definite diagnosis, laparoscopy is needed. However, if your doctor suspects endometriosis based on your symptoms, clinical examinations and transvaginal ultrasound, he or she may also propose to try medical treatment without establishing a definitive diagnosis first to reduce your symptoms. Options for medical treatment are analgesics, hormonal contraceptives or progestagens. If these treatments help relieving your symptoms, you may decide not to undergo laparoscopy. If these treatments are not helping you, you can still decide to undergo a laparoscopy.
In addition, in case you doctor suspects deep endometriosis, he or she may propose medical treatment and refer you to an expert centre for further diagnosis and/or surgery.
Endometriosis observation and removal for histology is based on surgeon skill and experience. It is important to choose a surgeon who has experience in diagnosis and removal of all endometriosis lesions. Endometriosis can be difficult to diagnose, it has many appearances, this is why it is essential to remove the lesions and send to the laboratory for confirmation. The ESHRE Guideline on Endometriosis 2013 state "the quality of both negative and positive laparoscopies depends highly on the abilities of the surgeon performing the laparoscopy. The experience, skill and knowledge of the surgeon determine whether endometriosis will be diagnosed if present. Retroperitoneally and vaginally localised endometriosis can be easily missed, especially if the patient has not been thoroughly examined preoperatively, preferably during anaesthesia"
Can Ultrasound, MRI, CT-scan, or CA-125 be used for diagnosing endometriosis?
Clinicians and researchers have been searching for other techniques to diagnose endometriosis in a non-invasive way, meaning, with minimal pain or discomfort to the patient.
Options that have been explored are ultrasound, MRI, CT scan, 3D ultrasound and biomarkers, like CA-125. Some of these methods are currently used when the doctor suspects endometriosis, since they can help the doctor in making a diagnosis or in helping to assess the extent of the disease.
Transvaginal ultrasound can be performed to diagnose ovarian endometriosis or deep endometriosis. The latter diagnosis is not so easy to make by ultrasound, you have to have a lot of experience to be able to do this. 3D ultrasound and MRI are not well suited to diagnose endometriosis. In established deep endometriosis, however, MRI can be used to assess the extent of the disease.
Some diseases can be diagnosed by a simple blood test through the detection of biomarkers. Biomarkers are molecules in a blood or urine sample of a patient that can be found during analysis in a laboratory. Researchers have looked for biomarkers (for instance CA125) for endometriosis in endometrial tissue, menstrual or uterine fluids, plasma, urine or serum. So far, no biomarkers are proven to be able to diagnose endometriosis. Therefore, the guideline development group recommends not using biomarkers to try to diagnose endometriosis.
In women with deep endometriosis, there can be lesions in other organs and/or severe adhesions. In case that your doctor suspects deep endometriosis, he can perform a Barium enema test, ultrasound and/or MRI to get information on the severity of the disease, before performing laparoscopy for a definite diagnosis, or starting medical treatment.
Ballard, K., Lowton, K., & Wright, J. (2006). What's the delay? A qualitative study of women's experiences of reaching a diagnosis of endometriosis. Fertility and Sterility,86(5), 1296-1301. doi:10.1016/j.fertnstert.2006.04.054
Bazot, M., Lafont, C., Rouzier, R., Roseau, G., Thomassin-Naggara, I., & Daraï, E. (2009). Diagnostic accuracy of physical examination, transvaginal sonography, rectal endoscopic sonography, and magnetic resonance imaging to diagnose deep infiltrating endometriosis. Fertility and Sterility,92(6), 1825-1833. doi:10.1016/j.fertnstert.2008.09.005
Chapron, C., Dubuisson, J., Pansini, V., Vieira, M., Fauconnier, A., Barakat, H., & Dousset, B. (2002). Routine Clinical Examination Is Not Sufficient for Diagnosing and Locating Deeply Infiltrating Endometriosis. The Journal of the American Association of Gynecologic Laparoscopists,9(2), 115-119. doi:10.1016/s1074-3804(05)60117-x
Dreyer, K., Rijswijk, J. V., Mijatovic, V., Goddijn, M., Verhoeve, H. R., Rooij, I. A., Mol, B. W. (2017). Oil-Based or Water-Based Contrast for Hysterosalpingography in Infertile Women. New England Journal of Medicine,376(21), 2043-2052. doi:10.1056/nejmoa1612337
Duffy JMN, Arambage K, Correa FJS, Olive D, Farquhar C, Garry R, Barlow DH, Jacobson TZ. Laparoscopic surgery for endometriosis. Cochrane Database of Systematic Reviews 2014, Issue 4. Art. No.: CD011031. DOI: 10.1002/14651858.CD011031.pub2
Hudelist, G., Ballard, K., English, J., Wright, J., Banerjee, S., Mastoroudes, H., Keckstein, J. (2011). Transvaginal sonography vs. clinical examination in the preoperative diagnosis of deep infiltrating endometriosis. Ultrasound in Obstetrics & Gynecology,37(4), 480-487. doi:10.1002/uog.8935
Hudelist, G., Fritzer, N., Thomas, A., Niehues, C., Oppelt, P., Haas, D., Salzer, H. (2012). Diagnostic delay for endometriosis in Austria and Germany: Causes and possible consequences. Human Reproduction,27(12), 3412-3416. doi:10.1093/humrep/des316
Jansen, R. P., & Russell, P. (1986). Nonpigmented endometriosis: Clinical, laparoscopic, and pathologic definition. American Journal of Obstetrics and Gynecology,155(6), 1154-1159. doi:10.1016/0002-9378(86)90136-5
King,K Unpublished data on Irish women living with endometriosis 2014
Mol, B. W., Bayram, N., Lijmer, J. G., Wiegerinck, M. A., Bongers, M. Y., Veen, F. V., & Bossuyt, P. M. (1998). The performance of CA-125 measurement in the detection of endometriosis: A meta-analysis. Fertility and Sterility,70(6), 1101-1108. doi:10.1016/s0015-0282(98)00355-0
Nnoaham, K. E., Hummelshoj, L., Webster, P., D'Hooghe, T., Nardone, F. D., Nardone, C. D., . . . Zondervan, K. T. (2011). Impact of endometriosis on quality of life and work productivity: A multicenter study across ten countries. Fertility and Sterility,96(2). doi:10.1016/j.fertnstert.2011.05.090
O, D. F., Flores, I., Waelkens, E., & Dhooghe, T. (2018). Noninvasive diagnosis of endometriosis: Review of current peripheral blood and endometrial biomarkers. Best Practice & Research Clinical Obstetrics & Gynaecology,50, 72-83. doi:10.1016/j.bpobgyn.2018.04.001
Redwine, D. B. (1987). Age-related evolution in color appearance of endometriosis**Presented at the annual meeting of districts VIII-IX of The American College of Obstetricians and Gynecologists, October 31, 1984, Scottsdale, Arizona, and at the forty-first annual clinical meeting of The American Fertility Society, September 28 to October 2, 1985, Chicago, Illinois. Fertility and Sterility,48(6), 1062-1063. doi:10.1016/s0015-0282(16)59611-3