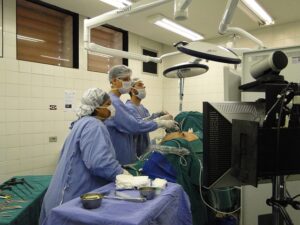 Build your own Spotify, Google Play or
YouTube play lists prior to your
hospital visit so that you have
your favourite music to listen to
for distraction and recovery.
Endometriosis surgery for diagnosis and treatment is almost exclusively done via laparoscopy. Laparoscopy is a minimally invasive surgery, also known as keyhole surgery. The surgeon makes small cuts (usually 1 bellybutton, 2 below bikini line) to insert the instruments. Gas (CO2) is added to the abdominal cavity to allow a better field of vision for the surgeon. Your surgeon will most likely use a video monitor to display the image from the laparoscope rather than look directly down into it. The surgeon also places tools to cut out your endometriosis through these small incisions. A small instrument is placed into the vagina to grasp the uterus and move it. A small scope (hysteroscope) can also be used during this surgery to look inside the uterus. You will be under general anaesthetic and not feel or remember any of this procedure.
Surgery for endometriosis is often done as a day case procedure, however for extensive endometriosis surgery you may stay in hospital for a couple of days.
Despite the superficial appearance (small incisions) a lot of work has gone on inside the pelvis. Organs (uterus, ovaries, tubes) have been moved and endometriosis lesions cut off the peritoneal lining and from organs like the bowel, bladder and structures like the ureters and uterosacral ligaments. You will feel surgical pain and tenderness for a couple of weeks or so after the surgery. This is all dependent on the amount of work done and how your body reacts. No two patients are the same. You'll be ready when your body feels ready.
Preparation
• Bowel Prep – if your surgeon has requested one, make sure you have your supplies ready and are clear on the instructions. A poorly prepared bowel can result in the procedure being postponed. Speak to your surgeon about this step. Do not take advice from the internet. Your surgeon / team is the only one to advise on this.
• Medications / Supplements – have you been advised to stop any medications or supplements? Have you been advised to take any medications or supplements prior to your surgery? Have you sufficient stock of your regular medications for the post op recovery period? Do not withhold information on medications or supplements from your healthcare team. It may put you at risk.
• Food – batch cook and freeze meals ahead of time. Stock up on nutrient dense foods to help recovery. Soups, stews etc. are warm and nourishing and easily digested.
For the hospital
• Pack lightly, the hospital doesn't have room or facilities for large bags. Leave jewellery at home.
• Shower the morning of your surgery. Do not apply deodorant, body lotions, fake tan, fake nails, nail polish or perfume. Application can impede access to your skin for monitoring and is also considered an infection control risk in some hospitals. The anesthetist and surgeon need to be able to monitor you accurately.
• Remove all body piercings, yes all of them.
• Bring reading material/ music / phone to keep you entertained in case of a wait pre surgery.
• Pack basic toiletries only, do not bring strongly scented items or sprays/perfumes. You will be in a recovery area / ward with patients of varying surgical backgrounds. Strong scents can exacerbate nausea and vomiting post anaesthetic and can induce migraine in those sensitive. There is no place for strong scents in a hospital environment.
If your procedure is a day case you will likely need the following (follow your own hospital's instructions):
• Dressing gown (lightweight, clean and washed)
• Slippers (well fitting, with sufficient grip)
• Clean loose fitting underwear
• Sanitary towels (no menstrual cups or tampons)
• Loose (waistband) fitting trousers/skirt
• Loose fitting top
• Slip on shoes
• Pillow for the journey home (to put between seat belt and abdomen)
• Heat patches for journey home (back application only)
• Lip balm
• Glucose sweets or throat lozenges
• Pen and paper (or your question sheet) to take notes after speaking to surgeon.
• Support person.
For longer stays in hospital:
• Your own nightdress (more practical than pyjamas but a lot of hospitals prefer to keep you in a gown for easy access to check wounds /leads/monitors)
• Warmer dressing gown for when you are up and walking around the ward / to bathroom
• Fluffy socks.
• Eye mask, earplugs, tissues.
• Shower shoes (sliders or well fitting flip flops)
For home post op
• Lactulose or similar prescribed stool softener as appropriate (to help the bowel get back to smooth functioning)
• Electrolyte sachets (if you have been vomiting or have diahorrea following surgery / bowel prep)
• Pain medication (if hospital has provided, or your own normal supply)
• Peppermint tea (to help the bowel get back to smooth functioning)
• Body or V pillow to help support and raise your body in bed
• Surgical dressings (change as advised by hospital)
• Sanitary towels (no menstrual cups or tampons)
• Loose fitting underwear and bottoms.
• Recovery plan – gentle movements frequently to help dissipate the CO2 gas, reduce shoulder tip pain and get bowel back to normal function. It also helps circulation and promotes healing.
• Heat – only use on low setting and on the back until the surgical incisions have healed.
• TV Series / Books / Music to help you recover.
What are you go to tips for surgery and recovery? Leave your feedback in the comments below!